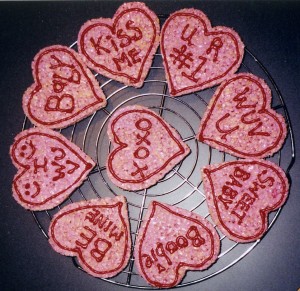 What was I thinking?
Ok, I'll come clean. I actually remember what I was thinking. It went something like this, "Crap, Valentine's Day is tomorrow" and "Double crap, he's expecting me to bake him something like previous years". I dug deep and decided to make pink, heart-shaped rice krispie treats with words on them (aka those candy hearts). My husband loves rice krispie squares and I can make them in a heartbeat so I decided that would be perfect.
I applied the tiniest amount of red food colouring to the melted marshmallow mixture and created a ghastly Pepto-bismol pink. Yikes!  After studying the colour, and convincing myself that it wasn't so bad, I decided to proceed. I pressed the mixture into a greased cookie sheet and punched out hearts using a large, heart-shaped cookie cutter. Then, I cut the left over bits into diamonds and "iced" them.
They still looked gross. I melted "Wilton red candy melts" (that's what they're called) and piped words on the hearts which improved the look . Unfortunately, they were still unappetizing. I know this for a fact as I took some to work and they lasted until the afternoon. A very bad sign.
That day I learned a valuable lesson (besides don't leave things to the last minute) that I can now put in to practice with my own family. Original, unadulterated Rice Krispie Squares are best…period. There are some things in this world that you just can't improve upon. This  is one of them.
Original Rice Krispie Squares
Ingredients
1/4 cup margarine or butter
1 pkg (about 40) regular marshmallows or 5 cups miniature  (250 g)
1/2 tsp vanilla extract (optional)
6 cups RICE KRISPIES cereal
Directions
Melt margarine in large saucepan over low heat. Add marshmallows and stir until completely melted. Remove from heat.
Stir in vanilla. Stir in RICE KRISPIES cereal until well coated. Using lightly buttered spatula, press into buttered 3.5 L (13 x 9″) pan.
Allow mixture to cool. Cut into bars. Best if served same day.
 
Note:
For chewier bars, use an extra cup of miniature marshmallows or about 8 regular marshmallows.
Courtesy of Kellogg's Rice Krispies.ca