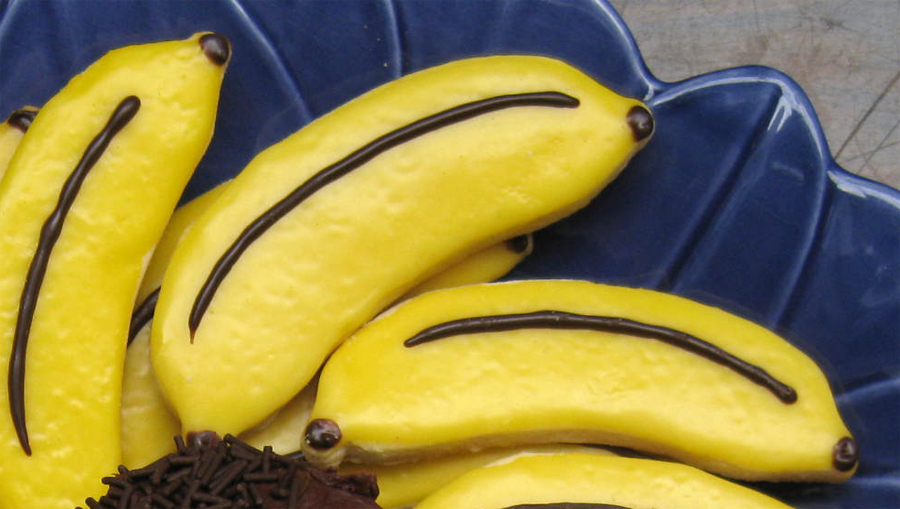 The assignment: banana cookies.
No, not cookies made with banana but cookies that look like bananas. Ohhhhhh…
Once again, it's Mom's famous sugar cookie recipe to the rescue. The trick was to find the right cookie cutter. I read on another blog how one Mom used a large circular cutter to cut out bananas "freehand". A good idea but I didn't have a large cookie cutter. So, I made the illogical decision and bought a banana cutter (like I'll ever use that again?!?).
I found a 4-inch banana-shaped cookie cutter at cookiecutter.com. In addition, I bought the cheapest (potentially useful) thing I could find (a Candy Writer) in order to reach the minimum order dollar amount ($5.00US). What, you ask, is a Candy Writer? They describe it as the following:
Squeezable candy in a tube makes decorating cakes, cookies, and candies extremely easy! Simply warm in a microwave or hot water, snip off the end and decorate. Dries hard. 1 – 5/8 oz tube. 
 Sounds a little sketchy but it worked beautifully. I used it to add details to the banana cookies and to add a nose and mouth to my monkey cupcakes. The little tube went a long way and I still have half a tube left. I sure if will last forever (kind of like a twinkie).
The banana cookies were a nice accompaniment for the monkey cupcakes.
Related posts
Classic Sugar Cookie Gallery
Thinking of Planning a Monkey Party?
Calling all monkeys…calling all monkeys