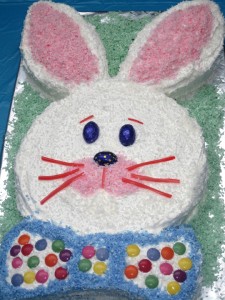 Last Easter, I made my first cut-out cake (a mommy right of passage). I feel like I just earned my baking badge. Wheeeeeeeeeeee! I used a coconut cream cake recipe and found the standard bunny cake template online (which I redrew in illustrator so I could print at 100% –I need things to be idiot proof).
The cake was really simple to "build" and decorate (especially if you bake the cake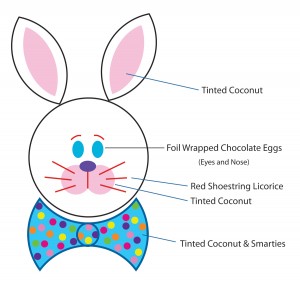 one day and decorate it the next). This type of cake improves in the fridge over night. Either way, you should give it a try. The kids (aged 3 and under) were in awe, while the adults just plain dove in. I wish all recipes could be as successful, which brings me to my annual Easter time baking flop.
Yes, a combination of hyper multi-tasking coupled with sleep deprivation resulted in some beautiful, garbage-worthy cookies.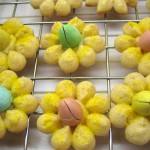 Upon completion of these gems, I was horrified to learn that I had read the recipe wrong and added a whole package of cream cheese instead of the 3 oz the recipe called for…Oh the humanity….it was a crying shame! I vow to make these beauties again. Hopefully next year the taste will match the look.