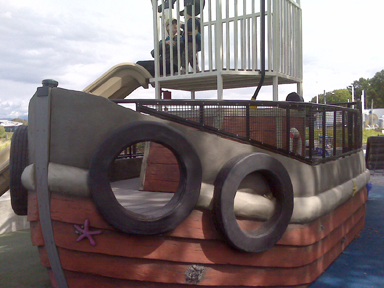 Things did not start off well on Sunday.
As we walked along the new seawall towards the Richmond Oval, I realized I'd left my beloved cup of coffee on the bumper of the car. Drat! Let it go, Andrea…breathe.
I'd never explored this part of Richmond, not even during the Olympics. Even though the seawall was unfinished (paths still gravel, construction equipment ready and waiting nearby and landscaping incomplete), the path was surprisingly neat, clean and inviting.
Overhead a variety of float planes, standard planes and helicopters made their decent into Vancouver International Airport. The constant stream of planes was a hit with Caden as was a little playground we stumbled upon.
This gem is along the seawall right beside the UBC Boathouse at 7277 River Road.  I've never seen play apparatus like this. It looked like a tug boat and when you got close enough to trip the sensors it made noise: seals, whales, bells, a horn, and seagulls. How cool is that?  There were 2 nifty slides plus 2 ever-important steering wheels. We liked playing here…this little tug definitely fired our imaginations.
Eventually, we continued on to the Olympic Oval, wandered around the exterior and then entered through the front doors. The lady at the desk gave us a handout so we could take a walking tour around the outside of the building. We could have taken a 45 minute walking tour of the inside of the building ($7 per person) but alas nap time was upon us.  You can explore the building yourself for free before 9:00am or after 3:00pm daily. What an amazing facility with lots of programs for kids. The fall schedule looks pretty cool (martial arts, basketball, skating, etc…).
Upon returning to the car, I found my coffee sitting on the bumper waiting for me, so I took a swig. Ahhhh….the perfect temperature…well…no, not really, but cold coffee is better than no coffee. Looks like it turned out to be a pretty good morning after all.