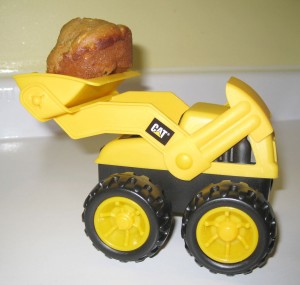 These aren't exactly hardcore veggie muffins but they do contain zucchini and carrot which is a good start. My toddler's vegetable repertoire consists of carrots and peas (on a good day) so it's nice to sneak a few extra veggies in when you can.
Grown-ups love these muffins and my little guy seems to like them too. They were easy to make and really moist. I suggest buying the oat flour found in the bulk food section of your store. It's more economical that way. Next time, I'm going to try coconut yogurt, carrots and pineapple…maybe with a splash of rum…ahhhhh….not really, just dreaming of a pina colada and a sandy beach…ahem.
The most difficult thing about making these muffins is trying to save them for the kids (and not stuffing your face while you down a cup of tea).
Sneaky Mommy Muffins
Makes 24 Muffins
Ingredients
1 1/2 cups all-purpose flour
3/4 cup whole wheat flour
3/4 cup oat flour
1/2 tsp salt
1 tsp baking powder
2 1/4 tsp cinnamon
1/4 tsp nutmeg
3 eggs
1/2 cup vegetable oil
1/2 cup unsweetened applesauce
1 cup Liberte lemon yogurt (or other full fat yogurt)
1/2 cup white sugar
1/2 cup honey
2 tsp vanilla extract
1 cup shredded zucchini
1 cup shredded carrot
Directions
Preheat oven to 375 degrees F (190 degrees C). Lightly grease muffin pan.
In a bowl, sift together the all-purpose flour, whole wheat flour, oat flour, salt, baking powder, baking soda, cinnamon, and nutmeg. In a separate bowl, beat together eggs, vegetable oil, applesauce, yogurt, sugar, honey, and vanilla. Mix the flour mixture into the egg mixture. Fold in the zucchini and carrots into the batter. Scoop into the prepared muffin cups.
Bake 15 to 20 minutes in a preheated oven, until a toothpick inserted in the center of a muffin comes out clean. Cool 10 minutes before transferring to wire racks to cool completely.
Make tea and start eating.
Recipe adapted from: Allrecipes.com, Zucchini Yogurt Multigrain Muffins