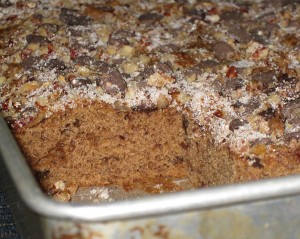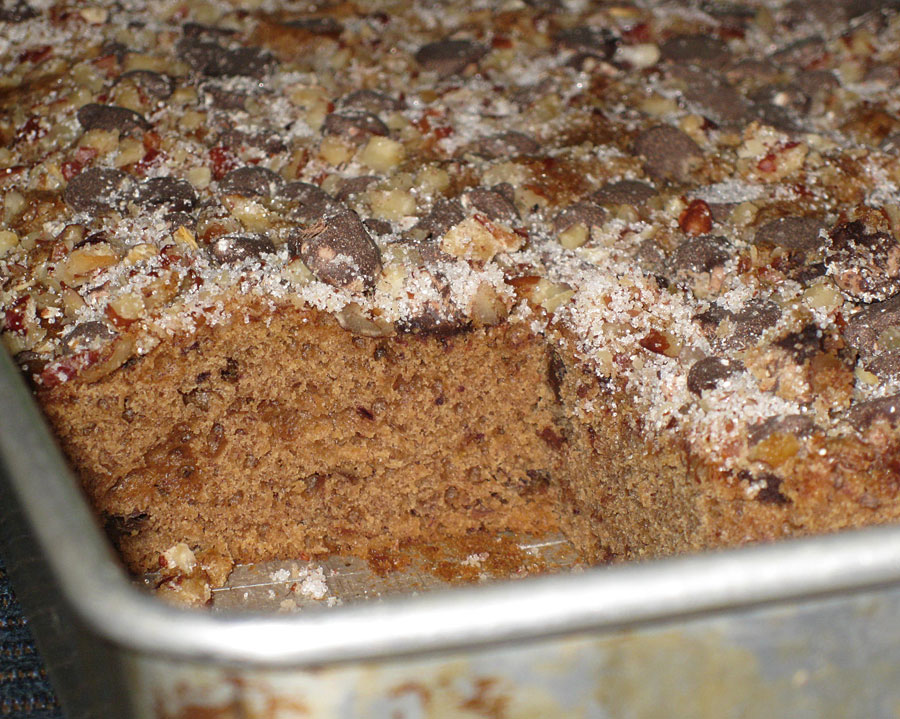 This is the perfect little pan cake…the one I've been eating for as long as I can remember.
This cake goes by many names. It  is "the guests are coming for the weekend" cake and "the cake that won't dry out, even on day 3" cake. Sometimes it's referred to as "the cake that sits on the counter with the knife lying in the pan" cake (that's because people come back for another piece, then another and another, what's the point in putting the knife away). In November, we call it "my brother's Birthday cake" (he doesn't like sweets or cake but eats this one).
For a change of pace, try this recipe instead of a brownie. I think you'll like it.
Polka Date Cake
Ingredients
Cake
3/4 cup butter
1 1/4 cup boiling water
1 cup chopped dates
1 cup white sugar
1 Tbsp cocoa
2 eggs
2 cups all-purpose flour
1 tsp baking soda
1/2 tsp salt
Topping
1/4 cup white sugar
1/2 cup chopped nuts (pecans)
3/4 cup (6oz) dark chocolate chips
Directions
In a small bowl, pour boiling water over dates and let sit until cool (the dates and water will be added to the batter).
In a large bowl, cream butter and sugar. Add eggs and beat well.
In a  medium bowl, mix flour with baking soda, salt and cocoa.
Add dry ingredients and dates (alternating) to wet mixture. Be sure to start with the dry ingredients and end with the dry ingredients.
Pour batter into a greased 13 x 9 inch pan. Sprinkle topping over the batter.
Bake at 350 degrees F for 35 minutes.