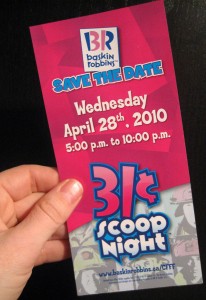 I know I will be. Be sure to mark this one on your calendars!
The Second Annual Baskin Robbins 31¢ Scoop Night is being held on Wednesday, April 28th from 5:00pm to 10:00pm at participating locations. This is a fundraiser in support of the Canadian Fallen Firefighters Foundation. Enjoy a 2.5 oz. scoop of your favorite flavour or a small size soft serve ice cream for only 31¢ (plus applicable taxes).
So choke back some Rocky Road or Mint Chocolate Chip for a good cause, will yah…I knew you could.
Locations
1690 E 12th Ave Vancouver, BC Canada, BANNERS RESTAURANT
Phone: (604) 874-0731
 
1327 Marine Dr North Vancouver District, BC Canada, NORGATE PLACE
Phone: (604) 987-7433
 
2901 E Hastings St Vancouver, BC Canada
Phone: (604) 251-7721
 
10151 No 3 Rd Richmond, BC Canada, BANNERS RESTAURANT
Phone: (604) 272-3238
 
6336 Bay St., West Vancouver, BC Canada, HORSE SHOE BAY
Phone: (604) 913-0004
Links
Baskin Robbins Canada
Canadian Fallen Firefighters Foundation