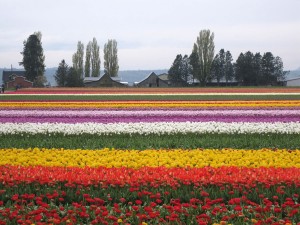 Friday was a beautiful day. Sunday was a beautiful day. Saturday it poured.
Guess which day we decided to go to Mount Vernon and Le Conner to check out the tulips? You guessed it. We chose Saturday. Lucky, weren't we? Actually, it turns out we were.
Truth be told, a tulip festival doesn't hold much excitement for a toddler. Let's face it, they'd be happy in a cardboard box or under a blanket pretending to be invisible. Taking family pictures with brightly coloured flowers, wandering through quaint streets and shopping in unique stores is the stuff that makes Mommies and Daddies happy…ok, it makes Mommies happy; Daddies miserable.
Our destination was Tulip Town in Mount Vernon, where admission is free for kids under 16 and $5 for adults. There, my husband, son and I met up with my cousin and her twin girls. We had three 2 year olds in tow.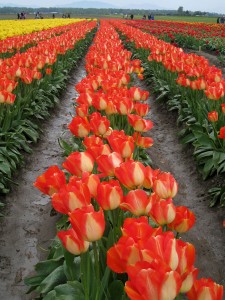 Once inside, we could walk into the fields or take a "Blue Trolley Tour" (a tractor pulled trolley that travels around the property).  There were kite demonstrations happening outside and a  flower and garden show, gift shop and snack bar to explore inside.
We decided to walk into the fields. Experiencing the rain and the mud, slipping, stumbling and getting dirty; that was the real fun for the kids. The highlights, from their point of view, were the slippery, sticky clay-like mud and the fish….yes, fish.
After visiting Tulip Town, we headed to Le Conner, to dry off, visit, and grab lunch. Le Conner is a quaint little town with unique shops and a few funky restaurants. We decided to eat at the first place that had a table because it was lunch time and busy. Thankfully, we found a place with 3 highchairs and room for 2 huge strollers. It was awesome and roomy. No one cared when the toddlers broke free and ran around the room. Well, I did…but no one else seemed to care.
The food was average (except the fries, they were above average) and a little pricey. The restaurant had a kids menu containing grilled cheese, hamburgers and pasta. This restaurant also held our "highlight of the day" which was a tropical fish tank situated at toddler eye level. One of the 2 year olds yelled out "Nemo" at the top of her lungs and it was "game over". High speed, choppy toddler-running commenced from the table to the tank, to the table, to the tank. The excitement was extreme and hilarious to watch.
A great day was had by all.  We were exhausted upon our return home. Even though you don't have to go to the Tulip Festival to get muddy and see fish; it's nice for the Mommy if you do (Daddy, I'm talking to you).
p.s. Most of the shops are small and not stroller-friendly. If you go with a girlfriend, I recommend eating at Calico Cupboard Cafe. Their peanut butter pie was crazy good.
Links
Skagit Valley Tulip Festival
April 1-30, 2010
Tulip Town
15867 Beaver Marsh Road, Mount Vernon, WA 98273
Phone 360-424-8531
La Conner Seafood & Prime Rib House
614 South First Street
La Conner, WA 98257
(360) 466-4014