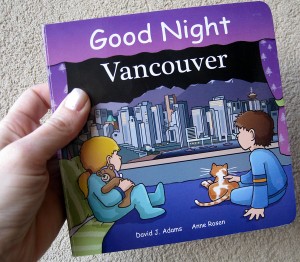 How much do I love this book? Let me count the ways…
1. I love the Vancouver-specific details:
a heron in English Bay
an Aquabus in False Creek with two seals looking on
a flood of cherry blossoms
a street performer at Granville Island in front of La Baguette et l'Echalote
the waterpark in Granville Island
the raccoons in Stanley Park
the snowboarders sailing down "The Cut" on Grouse Mountain
PLUS a smattering of sailboats, float planes and Canada geese
2. I love the cute drawings
3. I love its sturdy board book construction
4. I love the colors
5. I love the last few lines:
"It's nice to see you, freighters, nestled in the bay.
Thank you for sharing a wonderful day."
"Glitter brightly, West End lights.
Sleep tight, Vancouverites."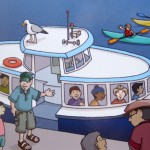 How cute is that? Pretty darn cute, if you ask me. I can't wait to take Caden to the locations mentioned in the book. We can cap off the day by reading about the places we visited. What a great concept.
It feels like a Vancouverite wrote this book; that is, if I overlook the fact that the cyclists are going around Stanley Park in the wrong direction (It's still one way, isn't it?). The tidbit about the petting zoo in Stanley Park is not longer accurate either but what the heck, perfection is overrated…at least in my world.
There are  "Good Night" books cropping up for other cities: Boston, Seattle, San Francisco. The only other Canadian city I've spotted is Montreal. Hopefully, they're working on the others as we speak.
p.s. Thank you Sousanna, we love the book.
Links
Our World of Books – Publisher
Kidsbooks – Retailer
Chapters/ Indigo – Retailer