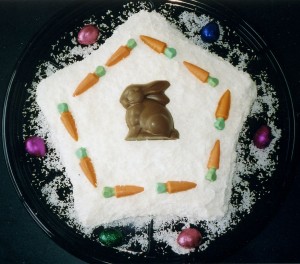 If you don't like coconut you can stop reading right now. If you like coconut, brace yourself.
Simple ingredients (almost idiot-proof, I'd say): cake mix, cool whip, coconut are combined to produce an AWESOME tasting, melt -in-your-mouth cake. This one is so good, I take it to potlucks in a star pan. The cake, shown above, was my contribution to an Easter brunch a couple of years ago. I bought the chocolate decoration at Charlie's Chocolate factory in Burnaby.
Let me know if you make it. I hope you like it.
Coconut Cream Cake
Ingredients
1 yellow cake mix
1 1/2 cups milk
1/2 cup sugar
2 cups flaked coconut
1 container of Cool Whip (4cups or 1 L)
Directions
Prepare cake as directed and bake in a 9″ x 13″ pan.
Cool 15 minutes and prick holes all over cake
Combine milk, sugar, and 1/2 cup of coconut in a saucepan. Bring to a boil and simmer for 1 minute
Carefully spoon over warm cake and cool completely
Fold 1/2 cup of coconut into Cool Whip and spread over cake
Sprinkle remaining coconut on top
Refridgerate overnight
Courtesy of  Winners More Recipes from the Best of Bridge, page 191