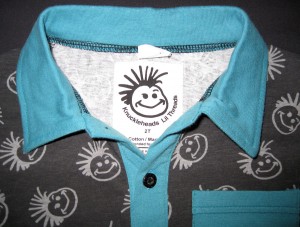 I just got back from the sample sale at the GX Building complex. Two neighbouring buildings are holding sample sales; one contains children's clothes, the other adult clothes. There are over 50 showrooms selling brand names such as Mexx Kidds, Misco Girl, Lovely Girl, Point Zero, Stephen Joseph and more. These are great little buildings to stroll around. I bumped into a lot of other Mommies at 10:00am this morning.
Baby clothes (onesies, sleeping sacks, socks, sleepers, hats etc…) make up the real deals at this sale. If you have a newborn or are a regular guest at baby showers, this is the place for you. If you are on a budget and have a boy around 2-3 years old there isn't much selection. As you already know (if you have a boy), girls clothes usually make up most of the store and boys clothes can be found on one or two racks.
If you're looking for dirt cheap clothing,  go to a Kids Swap. The clothing here is mostly designer, priced at cost or just below cost. Even so, I couldn't resist getting a few things. A hilarious toque and collared shirt ($20) and an army-style hat ($3). 
It was a fun little outting and I'll probably go again next time…and yes, I'll probably take Grampa again too…it makes shopping so much easier when he can walk Daemian around and dole out the cheese fish.
The sample sale continues until May 1st.
GX Building Sample Sale (April 28 -May 1)
1868 Glen Drive, Vancouver (behind Home Depot off Terminal)
Hours:
Wed to  Fri 10am – 7pm
Sat 10am-5pm (Note:  Some stores may be closed on Saturday)