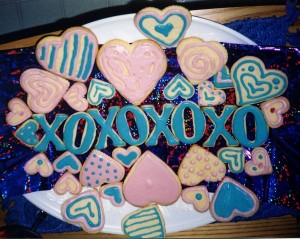 I'd like you to meet the cookies that make me smile.
It's true, most cookies make me smile but these ones make me smile a little more. I have memories of orange pumpkins at Halloween, red and green stockings at Christmas and more recently, chicks and bunnies at Easter.
At Halloween, Mom would make a big batch of these cookies and ice them orange. Then, my brother, sister and I would sit at the kitchen table and make jack-o-lantern faces on the cookies using paint brushes and melted chocolate. It was a lot of fun and every face was different. After trick or treating, Dad would put on a fireworks display and neighbours would drop by to eat the cookies with us.
Classic Sugar Cookie Recipe
Ingredients
1 cup butter
1 cup white sugar
2 eggs
3 tsp baking powder
salt
3 cups flour
Directions
Cream butter and sugar together in a large bowl.
Add eggs and beat to incorporate.
Combine baking powder, salt and flour in a bowl
Add dry ingredients to the egg mixture.
Combine until just mixed.
Roll out dough to 1/4 inch thick.
Cut into shapes.
Bake for approximately 10 minutes or until lightly browned around the edges.
Classic Sugar Cookie Icing
Ingredients
1 cup icing sugar
1/4 tsp salt
1/2 tsp vanilla
1 tbsp (or more) water
2-3 drops food colouring
Throw everything in a bowl and mx it up, BABY!
Note: This icing will slowly start to harden, so work reasonablely quickly. No need for full-on panic but it will start to feel "thick" when you try to spread it.  No worries, just add a few drops of water to the icing to loosen it up again. Leave iced cookies out overnight to harden before stacking or you'll be sorry. Trust me, I know from experience…WAH!
Related Posts:
Classic Sugar Cookie Gallery