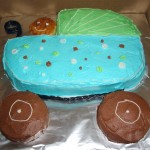 Karen, brought this fabulous cake to my baby shower. It was AWESOME. I am a fan of white cakes, so I thought I'd died and gone to heaven.
In my very pregnant state, I easily justified eating most of the leftovers by myself. It was just so damn good. In an effort to save myself from this cake, I threw it in the freezer. What a useless gesture that turned out to be. I simply threw frozen pieces in the microwave for 8 seconds making  it was even better than before…sigh. The cake was gone in a day.
One year later, I asked my Mom to make the cake again for my birthday
Note: To all you baker's out there, this cake has a heavy, buttery consistency almost like a pound cake but richer. It is definitely not light and airy.
I know a lot of work went into making this cake for me. I was very touched by the gesture and the guests were impressed by the cake. The carriage cake was a very special addition to my baby shower.
Recipe from Canadian Living Magazine: May 2008
http://www.canadianliving.com/food/baby_carriage_cake.php