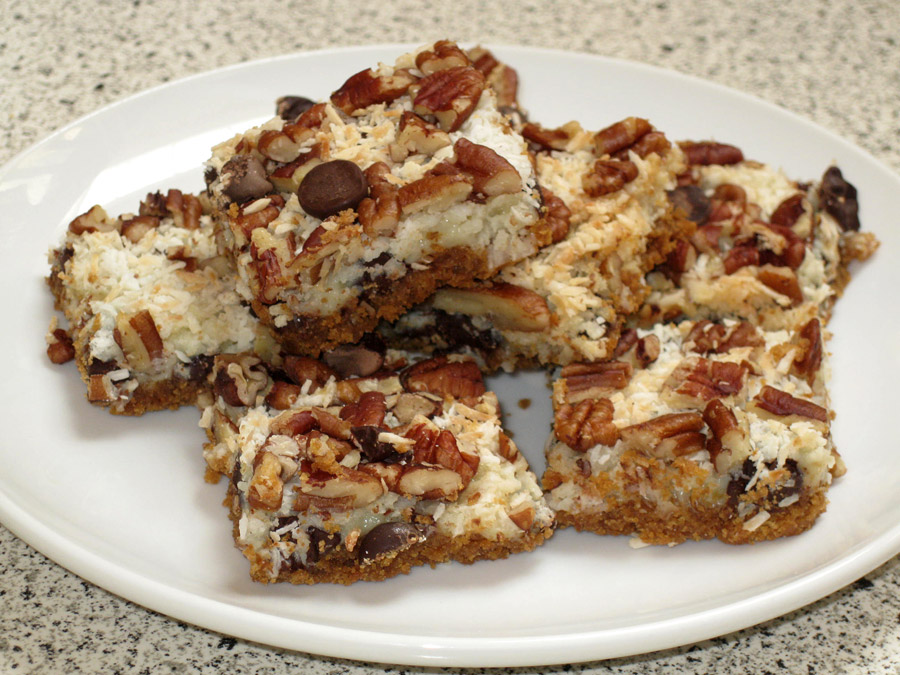 Years and years and YEARS ago, I made these bars. They were so good I vowed never to make them again and locked the recipe away in "the vault". (I have no will power when is comes to food like this and will eat the whole pan in a heartbeat).
A couple of weeks ago, I decided it was safe to whip up a batch . I was going away for the weekend to visit friends and wanted to take something really good. This recipe is simple, idiot-proof ( a favorite recipe trait of mine) and quick to make. Plus, these bars are always well received. Give them a try next time you need to bake but are stuck for time.
Note: The crust will appear "butter soaked" just turn a blind eye and proceed. I used unsweetened coconut, even though the recipe calls for sweetened. Nobody missed the extra sugar (these babies are super duper sweet). Also, I cut down on the chocolate chips and nuts….probably because I felt so guilty about the butter. No worries…they still rocked.
Magic Cookie Bars
Serving: 24 bars
Ingredients
2 cups (500 mL) graham wafer crumbs
3/4 cup (175 mL) butter, melted
1 can (300 mL) Regular or Low Fat Eagle Brand® sweetened condensed milk
1 1/3 cups (325 mL) chopped pecans (I only used 1 cup)
1 1/3 cups (325 mL) semi-sweet chocolate chips (I only used 1 cup)
1 1/3 cups (325 mL) flaked coconut (I used unsweetened coconut)
Directions
Combine graham crumbs with butter; press evenly onto parchment-lined 13 x 9″ (3.5 L) baking pan.
Pour Eagle Brand evenly over crumb crust.
Sprinkle with pecans, chocolate chips and coconut; press down firmly.
Bake in preheated 350ºF (180ºC) oven* 25-30 minutes or until lightly browned. Cool thoroughly and cut into bars. (Store loosely covered at room temperature.)
Hide from your family and most importantly…from yourself.
Recipe courtesy of the Eagle Brand website