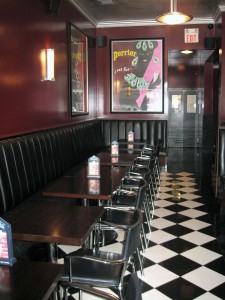 I've never been to a Café Crepe and was unlikely to do so (paying top dollar for a flour, egg and milk pancake is not my idea of a good time).
Today, as I walked by the restaurant with Caden in his stroller, I was craving a normal, non-baby experience. The restaurant was spacious and empty so I made a B-line for the door.
An Americano and a crepe enjoyed while sitting in a booth surrounded by a black and white tiled floor seemed sophisticated and very adult (well, with the exception of the high chair and munchkin beside me).
So there we sat, in our spacious booth, looking at each other and chilling out. I didn't have to worry about "my date" disturbing our neighbours and grabbing my water, coffee or cutlery. It was great.
The highlight of our restaurant experience was our waitress. I just wanted to hug her. She was sweet and "smiley" (not a scowl in sight). Pretty amazing considering Caden was throwing his 5th animal cracker on the floor as he scooped yogurt into the palm of his hand to smoosh on the table top. All that and our server didn't desert me . She actually returned many times to see if I needed anything. (What a superstar!) Being a high maintenance Mommy (that's anyone with a toddler); I thought she would have "hit the hills". Instead, she suggested a custom crepe for Caden to try, microwaved my Americano when it got cold, and brought me hot water to warm a bottle.
As for the food, my Americano was good, (I think…I'm more of a latte person) and the applesauce, cinnamon and banana crepe ($6.85) was pretty good too. Caden had a few bites (more than I expected Mister Fussypants to eat) and I happily ate the rest. Not bad at all. I enjoyed my date thoroughly. This place would be fabulous for a Mommy group to meet. Me and "My guy" may have to hit this joint again for some Nutella…I hear that's pretty good too.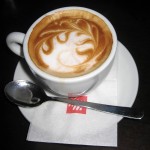 Cafe Crepe
2861 Granville St.
Vancouver, BC
(604) 488-1326
Hours:
Sun-Thurs    8 am – 11 pm
Fri & Sat    8 am – 1 am