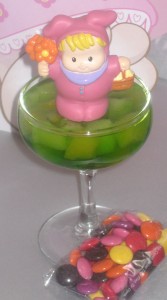 For my family, Easter means brunch with a capital "B". My grandmother started the tradition years ago and we continue it today. Past destinations for the annual "gorge-fest" have included the Bayshore, Hazelmere Golf Course, Newlands Golf and Country Club, the Delta River Inn and Brock House.
Last year with 4 kids under the age of 2, we decided that we'd out grown Brock House. They have a small selection of tasty items but the seats are so tightly packed together that you feel claustrophobic and stressed. It had become too difficult for 16 – 20 people to move around and visit comfortably.
After some online research, we decided to try something brand new. My sister found a good review on another blog and we decided to try the Hilton Vancouver Metrotown.
Upon arrival, we were pleasantly surprised. Even though the room was small, there was lots of space at the tables. The buffet looked great and the room was nicely decorated for Easter. There was a large selection of food including dim sum, smoked fish, shrimp, salmon Wellington, and roast beef in addition to the regular breakfast fare. Buffet food, as you probably know, is a different beast from your typical restaurant food. But hey, what the food lacks in temperature or texture, it easily makes up for through the variety and sheer volume. Let's face it, I could have eaten 10 lbs of bacon had I been inclined (and had a death wish).
Finally, there was lots of room to socialize and walk with the kids. You could walk around the room or head out onto the small patio. The price was $33.95 per person which is very reasonable considering buffet brunches in Downtown Vancouver seem to range from $45-56 per person. Children under 5 are free.
The only negatives were the room temperature and the sausages. The sun was beating down through the windows and our group of 17 people roasted. The sausages were a little on the gristly side (bleeck…the very reason I never touch the stuff).
Highlights include the:
service – extremely attentive and happy staff
mimosas – our glasses were filled many times
variety of food – lots to choose from
chocolates- 2 towers of Purdy's chocolates on the dessert buffet (next time I bring a bigger purse)
traditional Easter eggs – hard boiled decorated eggs
candy eggs for kiddies – children received a plastic egg filled with smarties presented in a mini bucket wrapped in cellophane
parking – free in the blue stalls
coffee – it was really good even though I kept losing my mug, too chatty I guess
room to move
It looks like we'll be heading there again next year.
Easter Brunch Menu April 2010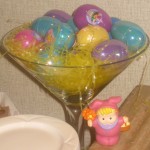 Hilton Vancouver Metrotown 
www.hilton.com
6083 McKay Avenue
Burnaby, BC V5H2W7