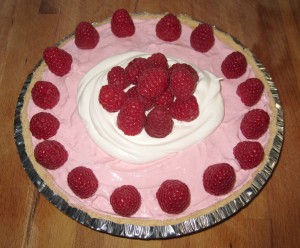 Today, I made this recipe…again. It was a special request from my Mom (Happy Mother's Day!), so how could I say no. Especially considering you only need 10 minutes and 3 ingredients (all of which I keep on hand in the cupboard for dessert emergencies).
I think my Mom likes this dessert because the light version tastes as good as the regular version. If you are calorie conscious use Light Jello and Light Cool Whip (I don't recommend using the No Fat version as it effects the density of the pie). If you want to make  "your masterpiece" look fancier, I'd suggest moving the bought pie crust into one of your own pie plates before you start (why not?) and adding some  Cool Whip and fresh berries to the top of the plated slice of pie…tah DAH!
Pay attention when the recipe says to let the mixture cool in the fridge before piling it into the pie crust. If you forget about bowl of filling, you will be serving the pie out of the bowl (it sets pretty firmly). If you are the kind of person that burns things under "speed broil", I'm talking to you…you know who you are…enough said.
Cool 'N Easy Pie Recipe

Ingredients
2/3 cup boiling water
1 pkg. JELL-O Brand Strawberry Flavor Gelatin (4-serving size)
Ice cubes
1/2 cup cold water
1 tub (8oz) Cool Whip Topping, thawed
1 store bought pie crust (60z)
Directions
In a large bowl, stir boiling water into dry gelatin mix for 2 minutes until completely dissolved
Add enough ice to cold water to measure 1 cup. Add to gelatin; stir until slightly thickened. Remove any unmelted ice.
Add whipped topping; stir with wire whisk until well blended
Refrigerate 15 to 20 minutes or until mixture is thick enough to mound
Spoon into crust
Refrigerate at least 4 hours until firm. Store leftovers in the fridge.
Note: I've used Strawberry and Raspberry Jello but I guess you could use any flavor.
Recipe courtesy of Kraft Foods