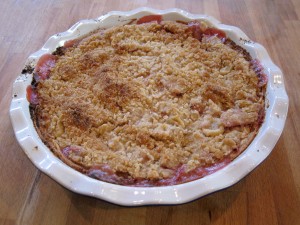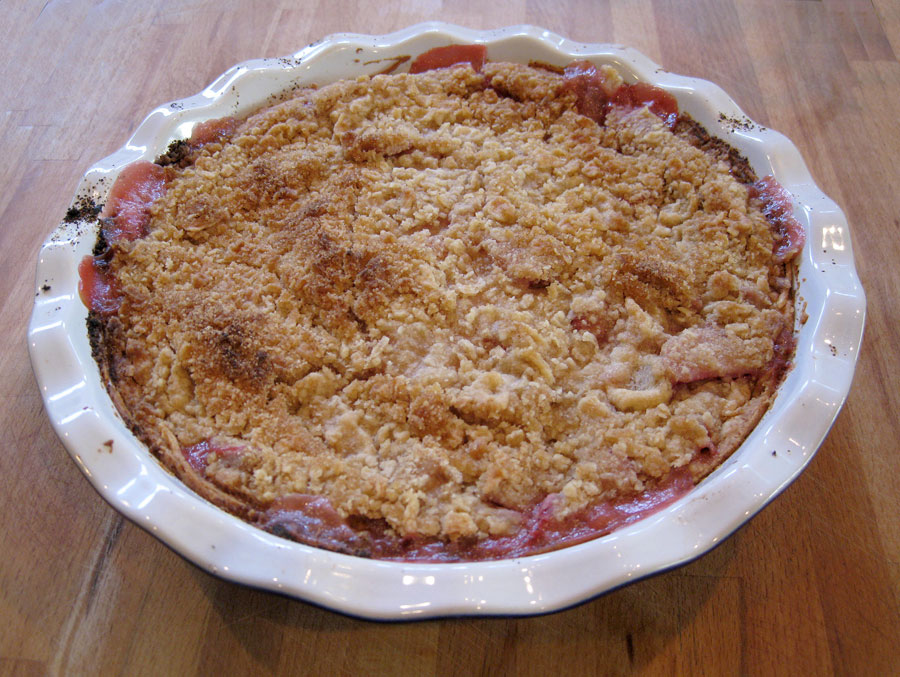 Ok…so I made two pies as my contribution to the Mother's Day festivities. I headed into uncharted territory with this one but was keen to use up two packages of frozen rhubarb, so I forged ahead. After a quick online investigation into the handling of frozen rhubarb, I decided to thaw it and lightly squeeze out the excess water.
This pie took no time to whip together and got rave reviews from a skeptical audience (Yes, I saw the looks). Once again, I used Liberte Yogurt (this time Maple flavored) and cut the sugar down to a scant 1 cup. The results were very, very good. The last piece of pie (shown below) never made it to the fridge. I will make this pie again and am on the lookout for more rhubarb. Tis the season.
Rhubarb Strawberry Crumble Pie Recipe
Ingredients
Filling
1 1/4 cups sugar
1/4 cup flour
1 cup plain yogurt or sour cream
3 1/2 cups diced rhubarb
1 1/2 cups of sliced strawberries
10″ unbaked pastry shell (I used tenderflake deep dish)
Topping
1/2 cup brown sugar
1/2 cup flour
1/4 cup cold butter
Directions
Preheat oven to 450 degrees F.
In a large bowl, combine sugar, flour, yogurt, rhubarb and strawberries. Spoon mixture into unbaked pie shell.
In a small bowl, mix together brown sugar and flour. Cut in butter until the mixture is crumbly. Sprinkle on top of pie.
Bake for 15 minutes and then reduce heat to 350 degrees F and continue baking for another 30 minutes.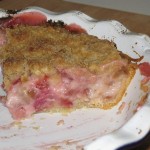 Note: If you serve this pie hot or warm, the filling it will ooze everywhere. If you serve at room temperature or cold the filling sets nicely and cuts like a dream.
Recipe courtesy of the cookbook Aces (More Recipes from the Best of Bridge), page 183