Ok…so the name isn't going to win any prizes but the park is nifty. You'd never guess that this lovely little park with woodsy trails is just a "hop, skip and a jump" from Capilano Mall and Marine Drive in North Vancouver. The locals were friendly and our new playmate helped us make a mud-pie birthday cake with stick candles. The playground is mini and geared towards younger kids that like to climb, but is was fun.
So, if you find yourself drving around North Vancouver one day with a kid strapped in your vehicle pushing your buttons (it's the shrieking that sends me). You can pull over, open the door and let your little one expel some of that pent up energy by running around Mosquito Creek Park.
P.S. I love these quaint little seats…they're so civilized…this is where you can plant yourself. Hopefully with latte in hand.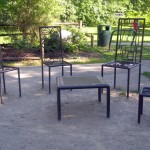 Mosquito Creek Park
Corner of Fell Avenue and West 17th Street
North Vancouver